19 Jul

Discovering Brazil's Vegetarian Delights at Estabulo: More Than Just Meat

When you think of Brazilian cuisine, images of succulent, barbecued meats cooked to perfection often come to mind. But at Estabulo, we're thrilled to show you another, equally delectable side of Brazilian cuisine – the vegetarian delights. Our menu is an ode to Brazil's immense biodiversity, harnessing the vibrant flavours of its fruits, vegetables, legumes, and grains, proving that Brazilian cuisine is indeed about 'more than just meat'.
At Estabulo, we've worked passionately to develop a vegetarian menu that's as diverse and colourful as the Brazilian landscape itself. Whether you're a committed vegetarian, dipping your toes into plant-based eating, or simply exploring new flavours, we invite you to discover the richness of Brazil's vegetarian cuisine.
Without further ado, let's take a tour of some vegetarian highlights from our menu:
Rissotto de Abóbora (Butternut Squash Risotto):
The process of creating this comfort dish begins with the careful selection of plump butternut squash and high-quality Arborio rice – a short-grain rice renowned for its creamy texture when cooked. Our chefs start by sautéing finely diced onions until they're beautifully translucent, releasing their sweet undertones. Then, they add the squash, cut into small pieces to allow for quicker, more uniform cooking.
The star of the show, Arborio rice, is then added, and the grains are toasted lightly to release their unique, nutty flavour. The process of gradual liquid addition starts, with our chefs slowly pouring in hot vegetable broth, stirring continuously until each ladle is fully absorbed by the rice. This meticulous process allows the risotto to achieve its iconic creamy texture while ensuring the rice grains remain al dente.
Once the risotto is cooked to perfection, we stir in a generous helping of vegetarian hard cheese, which adds a beautifully rich, savoury flavour that contrasts delightfully with the sweetness of the butternut squash.
Not only is our Rissotto de Abóbora full of flavour, but it also carries a robust nutritional profile. Butternut squash is a rich source of Vitamins A and C, antioxidants that boost immunity and promote good skin health. The Arborio rice provides energy-rich carbohydrates and essential minerals, while the vegetarian hard cheese adds protein and calcium. It's a balanced, wholesome meal that's sure to nourish both body and soul.
Pasta Recheada (Rigatoni Giardiniera):
This dish represents a fusion of Italian pasta craftsmanship with the robust flavours of Brazil. We start with premium rigatoni, a tube-shaped pasta perfectly suited for holding rich, flavourful sauces. The rigatoni is cooked to al dente perfection, ensuring a pleasingly firm bite that's a signature of expertly cooked pasta.
Meanwhile, our chefs prepare the fiery garlic and chilli cheese sauce. Freshly minced garlic and finely chopped chillies are sautéed until fragrant, releasing their pungent, spicy aromas. The chilli gives a delightful heat to the dish while the garlic provides a depth of flavour. We then add a rich cheese blend into the pan, stirring until it melts into a decadent sauce that's creamy, spicy, and packed with flavour.
The cooked rigatoni is then tossed into this sauce, allowing every piece to be generously coated and filled with this rich, spicy mixture.
Our Pasta Recheada is not only bursting with flavour, but it's also a nutritious vegetarian option. The pasta provides a good source of energy-rich carbohydrates and protein. The chilli peppers are rich in Vitamin C and have a metabolism-boosting effect, while the garlic has well-documented heart-friendly properties. The cheese adds a good dose of protein and calcium, making this dish a delightful and balanced vegetarian option.
At Estabulo, we believe that vegetarian options should be as delectable and nutritionally satisfying as their meat counterparts. And our Rissotto de Abóbora and Pasta Recheada are perfect examples of this commitment. Each plate serves a meal and a hearty, healthful culinary experience.
Inviting Atmosphere: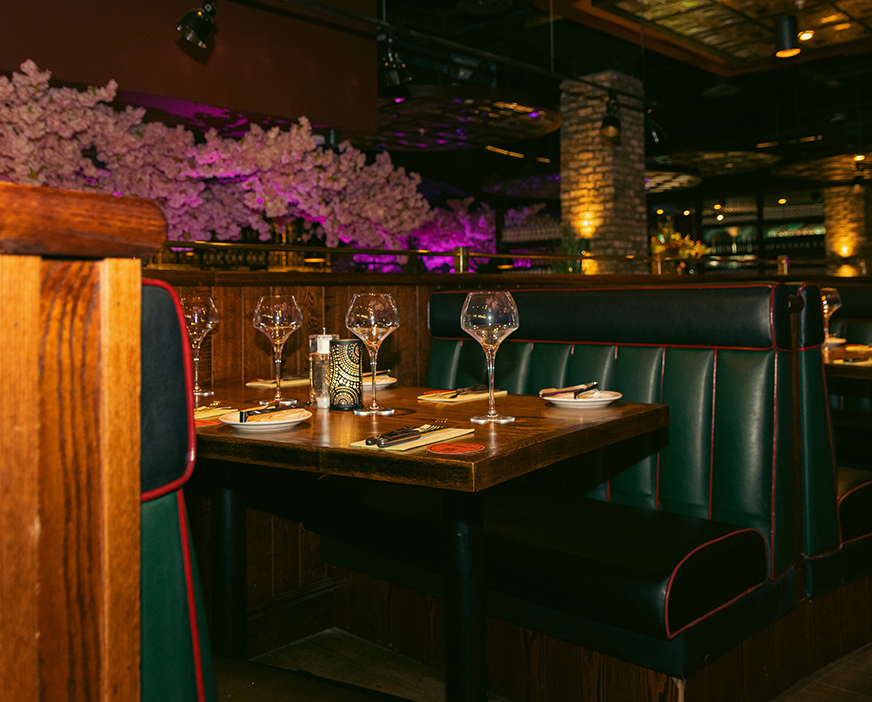 One of the defining traits of Estabulo, beyond our fantastic food, is the inviting, warm atmosphere that captures the spirit of Brazilian hospitality. As soon as you step through our doors, you'll be greeted with welcoming smiles, the lively hum of conversation, and an ambience that's both comforting and captivating. Whether you're here for a family dinner, a friend's gathering, or a romantic date, our setting suits all moods and occasions.
Our staff, known for their friendly and attentive service, are always more than happy to cater to your dietary preferences and needs. We understand that food is a personal experience, and we strive to make that experience as enjoyable and inclusive as possible. At Estabulo, everyone is treated like family, and our goal is to ensure that all feel welcome and accommodated, regardless of their food preferences.
Experience Beyond Dining: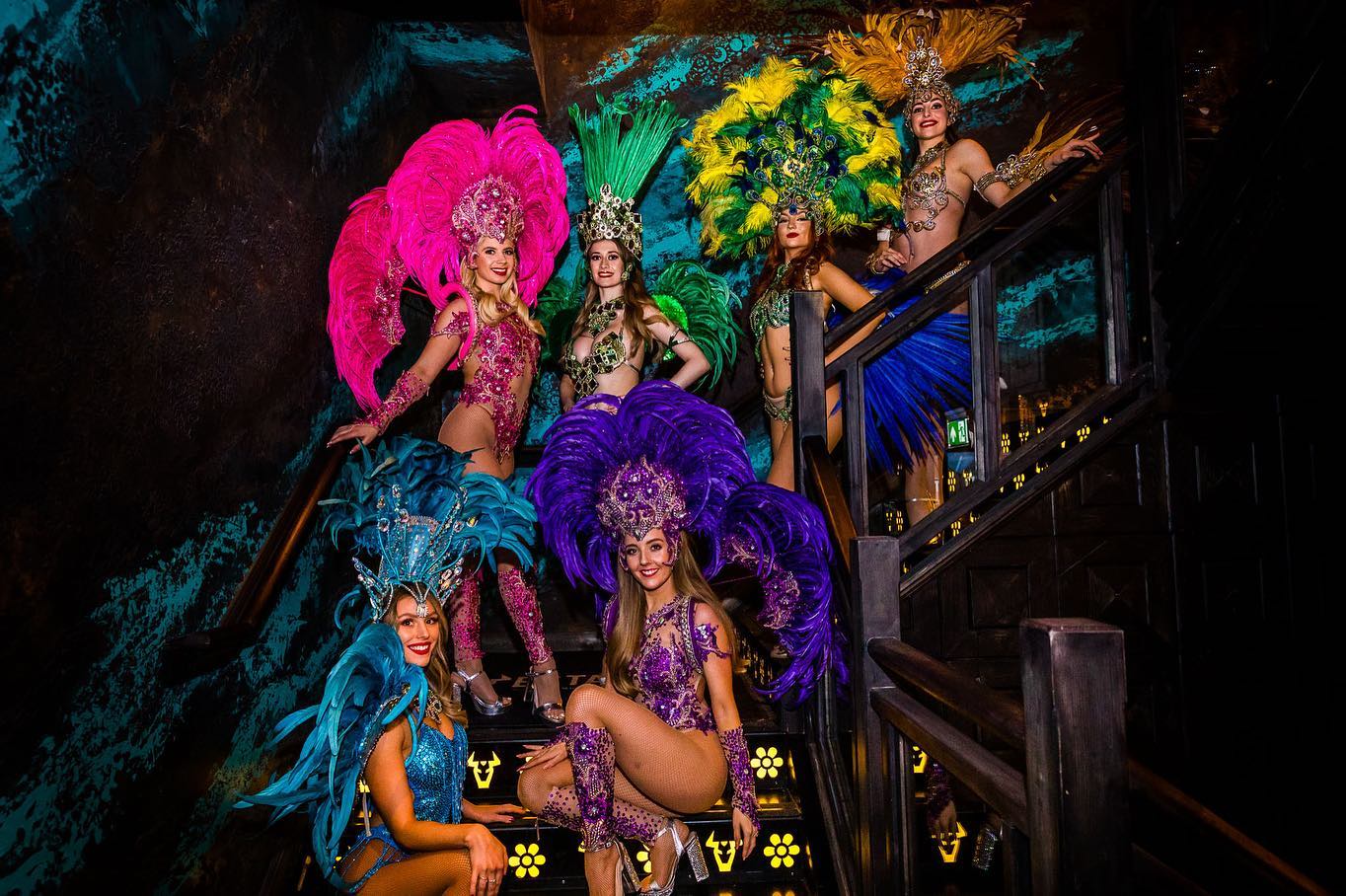 A visit to Estabulo offers more than just a meal – it's a journey into the heart of Brazilian culture. Our aim is not just to serve great food, but also to provide an authentic cultural experience that engages all the senses. The moment you step into our restaurant, you'll be enveloped by a vibrant atmosphere that's uniquely Brazilian.
Our interior is adorned with touches of Brazilian decor, creating an immersive experience that transports you straight to the heart of Brazil. From the vibrant colours and textures that adorn our walls to the rhythmic strains of Bossa Nova and Samba music filling the air, every element is carefully curated to provide an authentic Brazilian feel.
We also host regular events celebrating Brazilian culture, from live music nights to Brazilian holiday celebrations, all designed to offer our guests a taste of the country's lively spirit and rich cultural traditions.
At Estabulo, we believe that dining should be a holistic experience – a delightful blend of flavours, ambience, and cultural exploration. And it's this philosophy that makes Estabulo more than just a restaurant – it's a destination, a window into the vivacious culture of Brazil, right in the heart of your city. We invite you to join us for an unforgettable dining experience that goes far beyond the plate.
The Estabulo Rodizio experience is available in several locations across the UK, including: Wakefield, Leeds, Beverley, Harrogate, Norwich, Aberdeen, Barnsley, Doncaster, Durham, Darlington, and York. Despite the varying locales, each Estabulo restaurant is committed to providing the same authentic Brazilian dining experience, staying true to our core principles of quality, tradition, and exceptional service​.